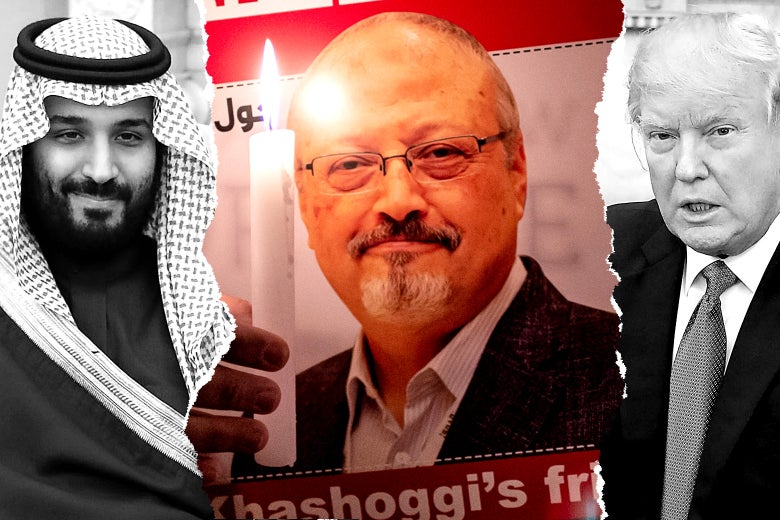 When the CIA catches dictators doing bad things, the dictators often pay lobbyists to lie about what's been discovered. Now the dictators can save their money because President Donald Trump is doing their hatchet work against the CIA for free. Trump has dismissed the agency's findings about Russian interference in the 2016 election. He has brushed off U.S. intelligence showing that North Korea is building new missiles. And he's lying about the CIA's assessment of a murder by the Saudi government.
On Oct. 2, a Saudi hit squad assassinated and dismembered Jamal Khashoggi, a Saudi journalist and U.S. resident, inside the Saudi consulate in Istanbul. Evidence of the Saudi regime's guilt piled up, and the regime's story kept changing, but Trump refused to blame or punish the de facto Saudi leader, Crown Prince Mohammed bin Salman. Trump kept looking "for ways to avoid pinning the blame" on MBS, even after he was "shown evidence of the prince's involvement," according to aides who spoke to the Washington Post. The president made clear that his reluctance was about money: He didn't want American companies to lose lucrative Saudi contracts.
But Trump had a problem: The CIA was learning the truth, and people connected to the intelligence community were leaking it. On Nov. 12, the New York Times reported that CIA Director Gina Haspel had heard audio of a phone call in which the leader of the hit squad instructed Saud al-Qahtani, a key aide to MBS, to "tell your boss" that the job was done. In an attempt to squelch the story, national security adviser John Bolton denied that the audio implicated MBS. "That's not the conclusion that I think the people who heard it have come to," Bolton told reporters. On Nov. 15, the administration omitted MBS from a list of Saudi officials targeted by sanctions over the killing.
So the leakers revealed more. On Nov. 16, the Post, citing officials "familiar" with the CIA's findings, said agency had concluded that MBS had "ordered the assassination." The Post reported that the CIA's assessment was based on several pieces of evidence. One was the "tell your boss" call. Another was an intercepted call, reportedly at the direction of MBS, in which the crown prince's brother, the Saudi ambassador to the U.S., had told Khashoggi to go to the consulate, where the hit squad met him. The CIA also had passport records and other evidence linking MBS to members of the squad. And based on the operation's complexity and MBS' history of micromanagement, the CIA concluded that there was no way it could have happened without his knowledge.
Other news outlets confirmed the Post's reporting. But Trump, instead of refusing to comment on the assessment, lied about it. On Nov. 17, Haspel briefed Trump, summarizing the evidence that had just been reported. Afterward, a reporter asked Trump, "Did the CIA assess that MBS was behind it?" Trump falsely replied, "They haven't assessed anything yet." On Nov. 20, Trump got another briefing—this time, according to CNN, "delivered in physical form." Again, he lied. A reporter asked him, "What about the CIA assessment that the crown prince of Saudi Arabia ordered the killing of Jamal Khashoggi?" "They didn't make a determination," Trump replied. "They did not make that assessment." Two days later, another reporter pressed him: "But the CIA, Mr. President, concluded with confidence that MBS was responsible." Trump disputed that claim: "They did not come to a conclusion. They have feelings certain ways, but they didn't have the report. … The CIA points it both ways."
Some of Trump's statements were lawyerly and evasive. Others—"They have feelings"—were egregiously misleading. And some—"The CIA points it both ways"—were outright lies. Intelligence officials fumed at the president's misrepresentations, and lawmakers who had been briefed on the assessment tried to correct him. But he continued to deceive the public. On Nov. 27, in an interview with the Post, he said of MBS, "The CIA did not say affirmatively he did it."
Other officials joined Trump in bending the facts. On Nov. 27, White House press secretary Sarah Huckabee Sanders said of MBS and the murder: "We haven't seen definitive evidence come from our intelligence community that ties him directly to that." On Nov. 28, Secretary of State Mike Pompeo told reporters, "There is no direct reporting connecting the crown prince to the order to murder Jamal Khashoggi." On Nov. 29, Defense Secretary Jim Mattis added, "We have no smoking gun that the crown prince was involved." All of these statements were carefully couched—definitive, directly, order, smoking gun—to be technically defensible. And all of them were designed to avoid conflict with the president's lies.
When reporters asked whether the CIA had implicated MBS, Pompeo and Mattis refused to answer. "I can't comment on intelligence matters or CIA conclusions," said Pompeo. "You need to go to the CIA for that," said Mattis. But the White House made sure that Haspel, who could have answered those questions, was kept out of a Nov. 28 briefing with senators.
Some of Trump's statements were lawyerly and evasive. Others were egregiously misleading. And some were outright lies.
So the leakers went back to the press. On Saturday, the Wall Street Journal, citing "excerpts" of the CIA's written assessment, reported four additional lines of evidence. One was MBS' history of using Qahtani and Qahtani's operatives—who had overseen and conducted the hit job on Khashoggi—to target the crown prince's enemies. The second was Qahtani's history of seeking explicit permission from MBS for "sensitive operations." The third was a 2017 comment from MBS, allegedly suggesting that if he couldn't coax Khashoggi back to Saudi Arabia, "We could possibly lure him outside Saudi Arabia and make arrangements." The fourth was the smoking gun: MBS and Qahtani had exchanged at least 11 electronic messages "in the hours before and after" the murder, while Qahtani was "in direct communication with the team's leader in Istanbul." The Journal quoted from the CIA document: "We assess it is highly unlikely this team of operators … carried out the operation without Muhammed bin Salman's authorization."
Facing a revolt in Congress, the administration finally yielded to senators' demands for access to Haspel. On Tuesday, she was sent to Capitol Hill to answer questions about Khashoggi. Tennessee Sen. Bob Corker, the Republican chairman of the Committee on Foreign Relations, emerged from the briefing with a guilty verdict: "I have zero question in my mind that the crown prince, MBS, ordered the killing, monitored the killing, knew exactly what was happening, planned it in advance. If he was in front of a jury, he would be convicted in 30 minutes." Another Republican, South Carolina Sen. Lindsey Graham, contrasted the CIA's assessment with Pompeo's and Mattis' accounts of it: "I'm going to assume that they're being good soldiers and that when they look at the analysis, they're being technical in their statements."
Trump's perpetual dishonesty about U.S. intelligence is a threat to national security and American democracy. It's also a manifestation of his fundamental disloyalty to the United States. Seven months ago, when Haspel was nominated to succeed Pompeo as CIA director, Virginia Sen. Mark Warner cautioned her about serving "a president who does not always seem interested in hearing, much less speaking, the truth." Other Trump officials, Warner noted, had been "attacked for telling a truth in public that contradicts the White House narrative." That's the paradox of working in Trump's CIA. The despot you have to manage is your own boss.
Support our work: become a Slate Plus member. You'll get exclusive members-only content and a suite of great benefits—and you'll help secure Slate's future.
Thank you very much for visiting our site!
>>>>>>>>>>>>>>>>>>>>>>>>>>>>>>>>>>>>>>>>>>>>>>>>>>>>>>>>>>>
Are you struggling to make your living? Looking for great PASSIVE INCOME?
You can make your living from anywhere! What you need is just a Laptop with internet connection.
No tech skill is needed! Please click here for more information!