Written by Elaine Godfrey (@elainejgodfrey), Madeleine Carlisle (@maddiecarlisle2), Olivia Paschal (@oliviacpaschal)
---
Today in 5 Lines
The Senate voted 51 to 49 to advance Brett Kavanaugh's Supreme Court nomination to a final vote.

In a speech on the Senate floor, Republican Senator Susan Collins of Maine announced that she would vote to confirm Kavanaugh. Read the speech here. Democratic Senator Joe Manchin of West Virginia said in a statement that he would also vote yes, paving the way for Kavanaugh to be confirmed in a final vote on Saturday.

In a column published Thursday night in The Wall Street Journal, Kavanaugh said that he "might have been too emotional at times" during his testimony to the Senate Judiciary Committee, and added that the Court "must never be viewed as a partisan institution."

Chicago police officer Jason Van Dyke was found guilty of second-degree murder in the 2014 shooting of 17-year-old Laquan McDonald.

The U.S. economy added 134,000 jobs in September, and the unemployment rate fell to 3.7 percent, the lowest since 1969.
---
Today on The Atlantic
---
Snapshot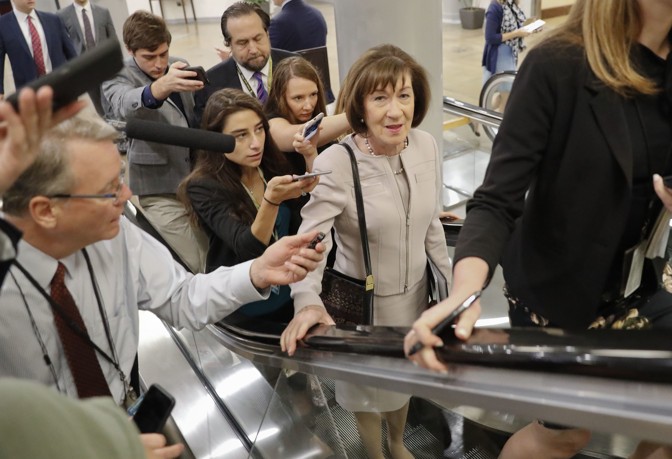 ---
What We're Reading
'A Complete National Disgrace': The spectacle surrounding the Kavanaugh confirmation hearings show a complete breakdown of our national institutions, writes David Brooks. (The New York Times)
'Stinkball' No Longer: South Carolina Senator Lindsey Graham's theatrics during the Kavanaugh confirmation process surprised many onlookers. Why is he acting this way? (Ben Terris, The Washington Post)
The Worst Job in Politics: Illinois' legislature is perpetually gridlocked, and its credit rating is as low as Russia's. Why would anyone want to be the state's governor? (Theodoric Meyer, Politico Magazine)
Hmmm: A friend of Christine Blasey Ford, Leland Keyser, reportedly told FBI investigators that she was pressured by Ford's allies to "revisit her initial statement" saying that she had no recollection of any incident like the one Ford described. (Natalie Andrews, Rebecca Ballhaus, and Sadie Gurman, The Wall Street Journal)
---
Visualized
Battleground 2018: A new CityLab analysis finds that control of the House of Representatives will likely be decided in America's suburbs. (David Montgomery)
We want to hear what you think about this article. Submit a letter to the editor or write to letters@theatlantic.com.
Thank you very much for visiting our site!
>>>>>>>>>>>>>>>>>>>>>>>>>>>>>>>>>>>>>>>>>>>>>>>>>>>>>>>>>>>
Are you struggling to make your living? Looking for great PASSIVE INCOME?
You can make your living from anywhere! What you need is just a Laptop with internet connection.
No tech skill is needed! Please click here for more information!