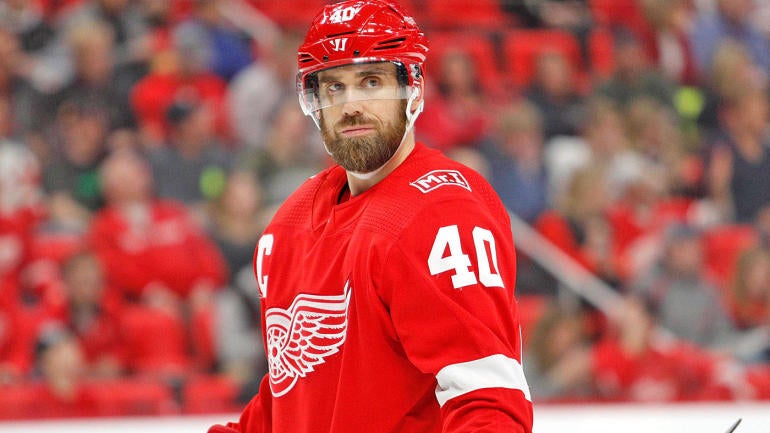 After 15 seasons with the Detroit Red Wings, Henrik Zetterberg is hanging up his skates. That's according to Red Wings general manager Ken Holland, who broke the news to Helene St. James of The Detroit Free Press. The center — who won the the Stanley Cup and the Conn Smythe Trophy with the Red Wings in 2008 — hasn't missed a game in three years, but persistent back problems this offseason had many thinking he would miss all of next season.
The announcement is one that only pushes center Dylan Larkin closer to the center of the stage in Hockeytown. Larkin, who signed a five-year extension worth $30.5 million last month, will now presumably take Zetterberg's spot on the first line. It's a big step in the team's rebuild, and just another step for the Red Wings in ushering in a new era.
Zetterberg's contract runs through 2021, but he was slated to make $3.35 million next season, a significant drop from the $7 million he made last year. Zetterberg was a key part of the Red Wings' transition from having Steve Yzerman at center, and he and Pavel Datsyuk comprised one of the most feared center tandems in hockey from the mid-to-late 2000s. When Niklas Lidstrom retired in 2012, Zetterberg took "C" for the Red Wings, wearing it for the rest of his career. After Datsyuk left the Red Wings in 2016 to play hockey in Russia, Zetterberg became the oldest player left on the Wings' roster.
Zetterberg finishes his career with 960 points. 337 of those points were goals, whereas 623 were assists. He is fifth in team history in points, goals and assists. He led the team in scoring in the 2016-17 season, but he seemed to know that the writing was on the wall earlier this offseason.
"Every time I try to amp up my workouts, I get symptoms again," he said in August to The Detroit Free Press. "Surgery is not an option. Since February, it has slowly gotten worse — things like nerve pain down your legs, disc-related issues. I was able to find a way to get through it, but it has slowly gotten worse.
"I need someone to tell me I can't play hockey anymore."
Finishing your career after three straight seasons of playing 82 games is pretty impressive for a 37-year-old. It's safe to say no one will begrudge Zetterberg for turning it in.
As for the Red Wings, the next step is naming a new captain. Niklas Kronwall is an obvious choice — he's the last member of the 2008 Stanley Cup winners and he's the most senior player on the team — but he's at the tail end of his career so he wouldn't wear the C for long. Justin Abdelkader was named captain in 2016 and he is on contract through 2023, so he's the most likely option as the Red Wings continue to navigate this rebuild. He'd have big shoes to fill, with the Red Wings passing the patch from Yzerman to Lidstrom to Zetterberg, but giving Larkin captainship at age 22 without even making him an assistant first, isn't something the Red Wings would normally do, especially with Holland's penchant for tradition.
On Oct. 4, the Red Wings will host the Blue Jackets. It will be the first time since 1983 that they'll open a season without Yzerman, Datsyuk or Zetterberg on their roster. Zetterberg will likely be honored at some point this season, and it's unlikely a Red Wing will wear No. 40 again. A lot of pressure is on Larkin, but the young center is being paid as a first-line player. The Red Wings are going to ask him to earn it early.
Thank you very much for visiting our site!
>>>>>>>>>>>>>>>>>>>>>>>>>>>>>>>>>>>>>>>>>>>>>>>>>>>>>>>>>>>
Are you struggling to make your living? Looking for great PASSIVE INCOME?
You can make your living from anywhere! What you need is just a Laptop with internet connection.
No tech skill is needed! Please click here for more information!