When the Duke and Duchess of Sussex recently visited Ireland, a fan's Prince Harry and Meghan Markle artwork really drew their attention, according to the fan's photos and video that has since gone viral. Arriving at Dublin's Trinity College on Wednesday, July 11, the royal couple greeted the hundreds of well-wishers who came bearing gifts like flower bouquets — but 19-year-old Chloe Mullins' framed pencil drawing stopped Harry in his tracks, according to Mullins' social media. After all, homemade gifts are always the most meaningful, right?
As Prince Harry shook hands with several members of the crowd gathered at Trinity College's Parliament Square, the stunningly realistic sketch of one of his and Markle's engagement photos really seemed to make an impression, as seen in Mullins' clip of the experience. "That's very, very good," the seemingly stunned royal told the girl, as seen in a video Mullins posted to her Instagram account. "Did you draw that? It's lovely."
In the video, the Duke was so taken, in fact, that he got Markle's attention so she could join him in admiring the artwork as well. His new wife had a similar reaction, asking the teen if she drew the picture, before Harry interjected some of his trademark humor. "You've given me more hair," he joked in the video, eliciting laughs from the Duchess.
He, then, asked if he could have the artwork, and when Mullins happily obliged. "I was like PLEASE TAKE IT," she tweeted, noting she'd previously been told they couple could not accept gifts. Harry handed the frame to a member of the couple's royal tour entourage.
Following the once-in-a-lifetime meeting, the teen artist shared her excitement on Instagram: "Ya girls artwork going in Kensington Palace," she wrote, along with several images of the awestruck couple. "Delighted to have gotten to talk to them and have them keep my drawing they're genuinely so nice!!!"
The next day, she was still reeling, sharing the video of the encounter on her Instagram page, writing:
"Still not over meeting them… couldn't ask for a better compliment than Meghan saying my drawing "looked like a photo" and was "so special" ❤️❤️ Great day! #royalvisit #drawing #royalfamily #meghanandharry"
While touring Trinity College, the couple also saw the historic religious text, the Book of Kells in the university's library. As reported by Entertainment Tonight, Markle had previously visited the campus in November 2013 when she received the Bram Stoker Medal for Entertainment from the university's Philosophical Society for her work on USA Network's Suits.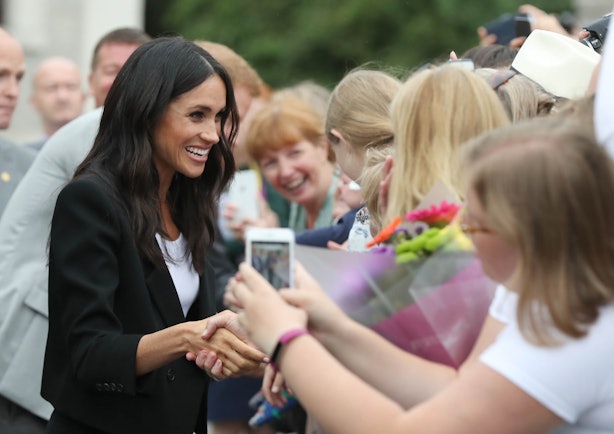 Earlier the same day, the Duke and Duchess, who arrived on the Emerald Isle on Tuesday, July 10 for the two-day trip, had another sweet interaction with a young fan at Dublin's Croke Park. A 3-year-old boy adorably breached royal protocol by reaching out and stroking Markle's hair and face. She seemed enamored making silly faces at the youngster who also blew her a kiss. Prince Harry playfully wagged his finger at the tot who was jokingly flirting with his wife.
While the pair greeted athletes and watched traditional Gaelic sports (such as hurling, camogie and rounders), Harry had a similar experience at the home of the Gaelic Athletic Association. When a 4-year-old boy tugged at Harry's beard, he hilariously grimaced, and much like when he made the crack about his hair in Mullin's drawing, Markle seemingly stifled her laughter. According to People, Harry hilariously told the boy, "You might have a beard soon — you never know!"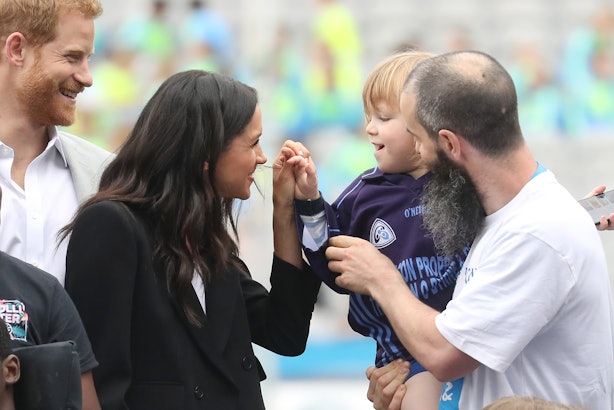 While in Ireland, the couple's jam-packed itinerary also included meeting Irish President Michael Higgins (and his super cute Bernese Mountain Dogs), viewing the Brian Boru Harp, paying their respects at the memorial for the Irish Famine of the mid-19th century, exploring the Irish Emigration Museum, and visiting young coders at tech start-up Dogpatch Labs.
Whether or not the newest piece of artwork the pair picked up on their royal tour will actually adorn the palace walls, their sweet interaction with Mullins shows just how down-to-earth the couple really is.
Photos and video courtesy of Chloe Mullins
Thank you very much for visiting our site!
>>>>>>>>>>>>>>>>>>>>>>>>>>>>>>>>>>>>>>>>>>>>>>>>>>>>>>>>>>>
Are you struggling to make your living? Looking for great PASSIVE INCOME?
You can make your living from anywhere! What you need is just a Laptop with internet connection.
No tech skill is needed! Please click here for more information!