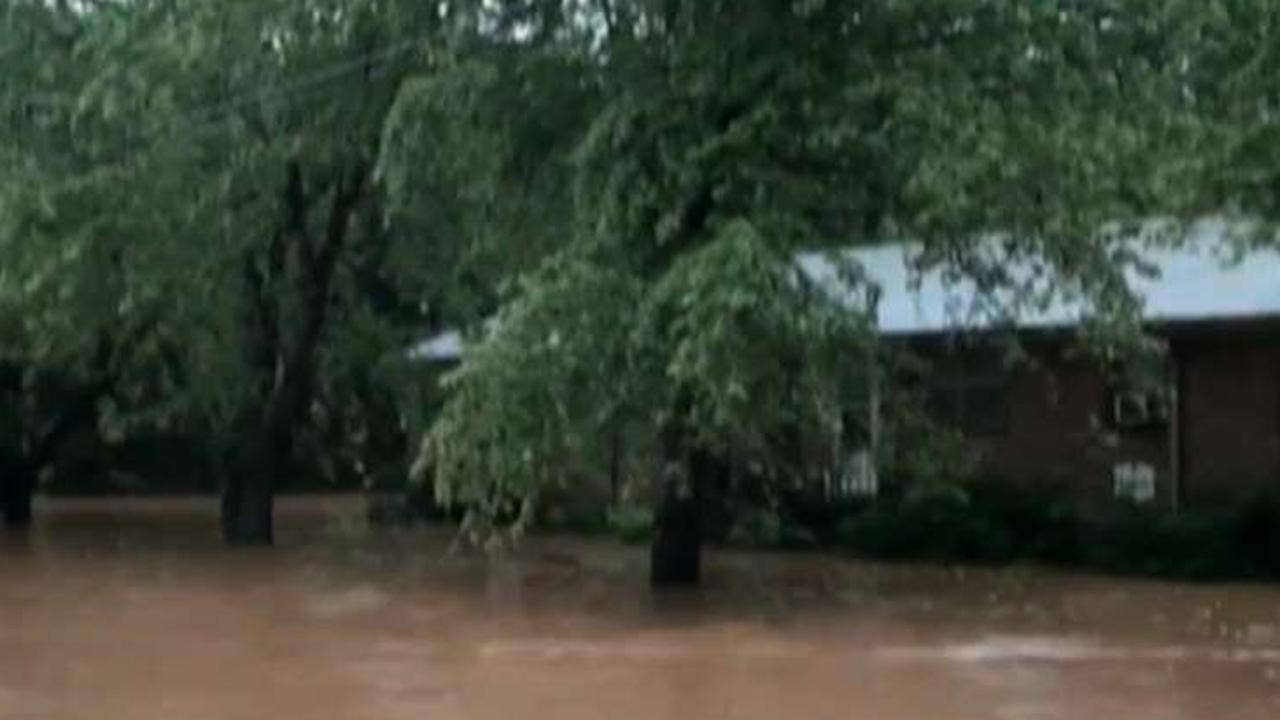 Massive evacuations have been ordered in a Virginia city after a deluge of rain overnight sparked fears that a nearby dam could overflow and spread upwards of 17 inches of water in just seven minutes.
Authorities have evacuated parts of Lynchburg, Va., in preparation of what county officials reported as the "imminent failure" of the College Lake Dam. They are still looking for signs of structural failure early Friday as water spilling over the dam, threatening about 124 houses in the city of 80,000 people.
The National Weather Service said up to six inches of rain fell within hours, filling College Lake beyond capacity.
'CATASTROPHIC' FLASH FLOODS HIT OUTSIDE BALTIMORE; CREWS CONDUCT WATER RESCUES
Major Tommy Carter of the Lynchburg Sheriff's office, told Fox News that the community was "preparing for the worst" and a potentially catastrophic flooding situation.
He explained that they were already dealing with floods from days of rain – more than six inches which has got worse – and they have had to conduct evacuations, some by boat.
He said that they were now focusedon evacuations and road closures near and around the dam, warning that more could be on the way.
"The Good news is that the rain has stopped and began to recede yesterday, relieving some of the pressure on the dam – but the bad news is that there's more rain in the forecast today and the dam has been weakened."
Officials have opened a local high school as a temporary shelter and the Red Cross of Virginia is working to stock the shelter with supplies, FOX station WFXR-TV in Roanoke reported.
Photos and videos posted on social media showed water gushing from College Lake.
"It's pretty much sickening. I can't believe that. It's the worst I've seen in all the eight years I've lived here," Jeff Saunders, who came home to his top floor apartment to find water reaching his front door, told the News & Advance of Lynchburg. "I'm just relieved [people who were rescued] are OK."
It was unclear how many people were being evacuated, but emergency response officials have started sending out boats and squads to rescue people as roads several roads were already flooded.
According to the News & Advance, 15 residents, including children, have been rescued from floodwaters.
The NWS issued a flash flood watch for the area that lasts until early Friday.
Fox News' Griff Jenkins and The Associated Press contributed to this report.
Benjamin Brown is a reporter for Fox News. Follow him on Twitter @bdbrown473.
Thank you very much for visiting our site!
>>>>>>>>>>>>>>>>>>>>>>>>>>>>>>>>>>>>>>>>>>>>>>>>>>>>>>>>>>>
Are you struggling to make your living? Looking for great PASSIVE INCOME?
You can make your living from anywhere! What you need is just a Laptop with internet connection.
No tech skill is needed! Please click here for more information!