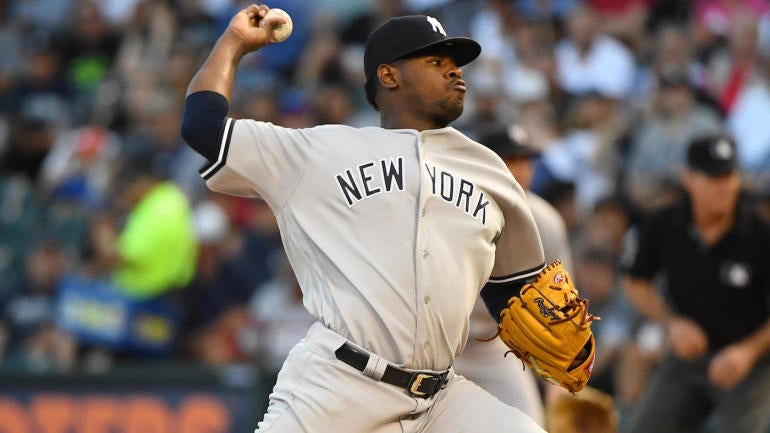 The day many like to call "hump day" is here, chock full of MLB action from around the middle of the day through a West Coast night game. Let's get to it.
Wednesday's scores
Severino finally bounces back for Yanks
Yankees ace Luis Severino came into Wednesday night's outing against the White Sox having allowed 24 runs in his last 25 innings and having failed to register a quality start since July 1. There's been talk of tipping pitches and mechanical issues from the windup.
In light of all that, consider his Wednesday performance to be welcome news for the Yankees …
That's the first time Severino has made it at least seven innings since June 26. No, it wasn't dominance on the run-prevention front, but it's a quality start with eight strikeouts and no walks. Needless to say, the Yankees will be hoping to see more of this kind of thing from Severino moving forward.
Also of note, here's Giancarlo Stanton's first grand slam as a Yankee …
He's now got 27 homers and an OPS of .860 for the year. That slow start seems like a long time ago.
So make it a much-needed sweep for the Yankees coming off that disastrous series in Boston.
Lindor walks it off for Cleveland
Cody Allen blew the save in the top of the ninth against the Twins, but Francisco Lindor came through in a big way for the Indians in the bottom of the frame …
That's Lindor's 29th homer of the season (four shy of his career high set last season) and the second walk-off blast of his career. On the season, Lindor is now batting .297/.376/.572, and he's already closing in on 100 runs scored. Bear in mind he's a slick-fielding shortstop who also runs the bases well. Consider Lindor to be an AL MVP candidate.
The win pushes the Indians' lead in the AL Central back to 10 games.
The Braves' win in tandem with the Phillies' loss means that Atlanta is now just a half-game behind Philly in the NL East standings.
Of note in this one was the baseball brilliance of 20-year-old phenom Ronald Acuna. In the fourth inning, he not only launched a 452-foot homer but also robbed one in the field. Dig it …
Acuna also added a single and a stolen base for good measure. Juan Soto has justifiably received much of the attention in this series, but he's not the only future superstar on the scene.
Red Sox get to 81 wins
It's Aug. 8, and already the Red Sox have ensured at least a .500 season. By doubling up the Blue Jays on Wednesday night, the Red Sox pushed their record to a remarkable 81-34. That comes to a winning percentage of .704, and that puts them on pace for 114 wins. Speaking of all of that …
Overall, the Sox have won six in a row and 25 of their last 30. On Wednesday, youngster Rafael Devers came up big in his return from the DL, as he went 2 for 4 with a home run and a double.
Fiers helps A's to big win in Oakland debut
Righty Mike Fiers made his first start since being dealt from the Tigers to the A's. Although he lasted just 5 1/3 innings against the Dodgers, he permitted only one run while striking out eight and walking none — strong results against one of the best offenses in baseball. Blake Treinen picked up his 29th save of the season, and he pushed his ERA down to 0.93. The A's are now three games up on the Mariners in the race for the second AL wild-card spot.
On the other side, Clayton Kershaw had a quality start, but …
Kershaw boasts a 2.58 ERA this season with 99 strikeouts against 19 walks in 101 1/3 innings, but he wasn't quite so dominant in this one.
Carp powers Cardinals again
The win over the Marlins on Wednesday means that the Cardinals are five games over .500 for the first time since June 27. It also means that they've won four straight series.
John Gant pitched well in this one, and Yadier Molina tallied a homer and a double. Again, though, the story was Matt Carpenter. Here's his NL-leading 31st homer of the season …
Carpenter had an OPS in the .500s on May 16, but now he's in the NL MVP discussion with a slash line of .281/.393/.598 after 476 plate appearances. He's also yet to hit into a double play in 2018.
Brewers bomb Kennedy in debut
The Padres promoted right-handed pitching prospect Brett Kennedy in time to face the Brewers on Wednesday, and it did not go well for the 24-year-old …
Particularly impressive was Jesus Aguilar's opposite-field liner. That's the first time the Brewers have gone back-to-back-to-back since Ryan Braun, Adam Lind, and Aramis Ramirez pulled off the feat in May of 2015. It's also the first time the Brewers have done this at home.
As for Kennedy …
Nowhere to go but up. If it's any consolation, at least Kennedy wasn't on the mound when Christian Yelich perpetrated this act of baseball violence …
Mercy.
Mets get deGrom a win!
Much has been made of the season Jacob deGrom is having — specifically how great he's been and how little support he's gotten from his teammates. He was predictably awesome again on Wednesday against the Reds. He went six scoreless innings and allowed only four hits, walked just one and struck out 10. He now sports a 1.77 ERA, 0.96 WHIP and has 183 strikeouts in 152 1/3 innings.
Get this, though — on Wednesday, deGrom's teammates didn't fail him. He won! The Mets scored a whopping eight runs in support of deGrom and the bullpen didn't allow any runs. This gave deGrom his first win since June 18. He was 0-5 with a 2.47 ERA in his seven starts between wins.
Outfielders Brandon Nimmo (3 for 5, 3 RBI, 3 2B) and Austin Jackson (3 for 5, 3 RBI, 2 2B) did much of the heavy lifting in getting deGrom another win.
Are the Mariners in trouble?
At the close of play on July 5, the Mariners were a season-best 24 games over .500, just off the Astros' pace in the AL West, and solidly in wild-card position. Since then, though, they've gone 9-18 — a mark that reflects their second-straight loss to the Rangers on Wednesday.
Once again, the Mariners had pitching problems. On Tuesday, Felix Hernandez got lit up in Arlington, and on Wednesday it was Marco Gonzales' turn …
Not good. Gonzales spotted 60 of his 84 pitches for strikes, but they were self-evidently hittable strikes. As a result, Gonzales' 2018 ERA jumped from 3.46 to 3.79.
With the loss, the Mariners saw their run differential drop to minus-29. In part because of those poor underlying fundamentals, the SportsLine Projection Model gives Seattle just a 31.1 percent chance of making the postseason.
Need more bad news? After the M's wrap up their series in Texas, they'll play their next 16 games against the Astros, A's, Dodgers, and Diamondbacks. That brutal stretch could effectively bury the Mariners, which means their current playoff drought, which dates back to 2001 and is the longest in MLB, will probably live for at least another year.
Corbin dominates Phillies
The Diamondbacks won the rubber match in their home series against the Phillies in large measure because of Patrick Corbin's gem …
That was good for a Game Score of 85, which is Corbin's highest such mark since April 4. It's just the fourth time in his career that he's registered a Game Score of 85 or higher.
On the season, Corbin's pitched to a 3.15 ERA in 148 2/3 innings this season with 183 strikeouts against 37 walks. Those are ace-like results for the 29-year-old.
On the offensive side of things for 'Zona, David Peralta went 4 for 5 with a triple.
Archer earns first win as Pirate
In his second start since being traded from the Rays to the Pirates, Archer picked up his first win as a member of the Buccos. In five innings of work, Archer allowed two runs while striking out three and walking two. While that's hardly dominance, it's not bad considering the venue was Coors Field. Adam Frazier collected three hits for Pittsburgh.
On the losing side, German Marquez notched a quality start and also made a little Coors Field history …
For the uninitiated, an immaculate inning is three strikeouts on nine pitches, and Marquez on Wednesday authored the first ever immaculate inning by a Rockie in Coors Field.
Quick hits
Live team updates
Thank you very much for visiting our site!
>>>>>>>>>>>>>>>>>>>>>>>>>>>>>>>>>>>>>>>>>>>>>>>>>>>>>>>>>>>
Are you struggling to make your living? Looking for great PASSIVE INCOME?
You can make your living from anywhere! What you need is just a Laptop with internet connection.
No tech skill is needed! Please click here for more information!