Everyone wants to know what the new-look Lakers are going to, well, look like on the court. When LeBron James decided to team up with a bunch of young studs and the craziest concoction of grizzled veterans ever assembled, there were two dominant schools of thought.
It just might be crazy enough to work and breed beautiful basketball or the circus is coming to Staples Center.
Well, Magic Johnson and select Lakers employees had the privilege of laying eyes on the NBA's most intriguing team entering the 2018-19 season well before the beginning of training camp Tuesday. Not surprisingly, the Hall of Famer, who had a hand in convincing LeBron to take his talents to Los Angeles, liked what he saw. Especially from the vets who dominated the action—and not necessarily by dunking all over their new teammates or shooting lights out from the floor.
"Oh my goodness, it was something to watch," Johnson, the Lakers president of basketball operations, said last week at a pre-training camp press conference. "I watched LeBron from afar, and of course at many games, but to watch LeBron in the gym is a different thing. How much he makes everybody better but also how he raises everybody's level of play."
On Monday, the Lakers held their annual media day at their El Segundo practice facility and hosted more journalists than you see at most playoff games. Usually these things feature just local writers, reporters, and TV stations, but the horde—that included international journalists and CNN—was on hand for LeBron's first official comments as a Laker. The cameras followed LeBron from his 10-minute sit down with the press to his photo shoots to his chats with local TV, radio, and the Lakers official podcast crew. While LeBron had his every move documented as he roamed around the Lakers practice facility, iPhones and cameras capturing it all, the team's young core—Kyle Kuzma, Lonzo Ball, Brandon Ingram, and Josh Hart—enjoyed significantly less scrutiny than in years past and the chance to talk about the additions of James, Rajon Rondo, Lance Stephenson, JaVale McGee, and Michael Beasley.
"The level of play, they were going hard. It was physical, it was tough, there was trash talking, it was just a lot of fun, but also a lot of teaching out there."
Since the Lakers had yet to hold an official practice, the crowd was most curious about the pickup games. Johnson had tipped off the media with a few details and stories about what he saw. Almost nobody outside the Lakers organization has any idea what brand of basketball is going to be played with such a unique roster. So the newcomers and vets were peppered with questions not only about what it would be like playing with LeBron and each other, but more specifically about what went down in those scrimmages.
"The pickup games were very intense," Stephenson said. "Those pickup games was definitely amazing, just to get to know everyone. Coming in early and playing those pickup games definitely created a bond for all the players."
Even though Ball couldn't participate in the games—he wasn't cleared for 5-on-5 play due to off-season knee surgery—he was there on the sidelines soaking up knowledge. According to Johnson, Rondo would frequently confer with Ball about what was going on in the games. The teaching moments led to film sessions featuring Rondo, Ball, and Johnson—three generations of ball-handlers and floor generals that basketball junkies would die to sit in on. Rondo said Ball's willingness to break down film with him in the middle of the summer was something he'd never experienced before.
"I don't know how many second year players I've watched film with and are critiquing themselves two months before the season starts," Rondo said.
The Lakers should be postseason bound this season. LeBron could basically will the woeful Hawks into the postseason by himself, so the Lakers can reasonably be expected to make some kind of run to Western Conference semifinals. LeBron also won't have to do quite as much heavy lifting this season with a roster that's arguably more talented than the one he left in Cleveland. But just getting there isn't necessarily going to be celebrated, even if the franchise hasn't been in the playoffs in five years. There's significant work to do with so many news faces and styles trying to fit together before the Oct. 18 opener in Portland. The positive, though? The intensity, the tone, the urgency set in those pickup games were unlike anything Ball, Kuzma, Hart, and Ingram have experienced leading up to the start of a season. "Playing against one of the greatest players of all time is only going to make you better and make you learn and [up] the learning curve," Kuzma said.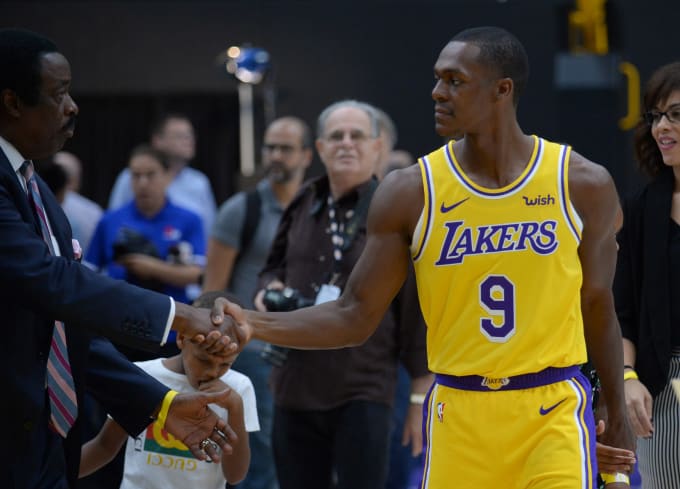 "The level of play, they were going hard. It was physical, it was tough, there was trash talking, it was just a lot of fun, but also a lot of teaching out there," Johnson said. "LeBron is teaching in the pickup games. Rondo is teaching in pickup games. JaVale blocked Kuz's shot and told him next time you better come in and dunk it and not let me block it. A lot of that was going on that didn't happen before to see these young guys learn from champions."
Big things will be expected from Kuzma in his second season, and in order to take that next step he worked with Kobe Bryant this off-season. Ball is bulkier—"He's built like a brick wall," Kuzma said—after hitting the weight room and the enigmatic point guard expects to be a better shooter because of it. Hart was named the Summer League MVP. Ingram is still only 21 years old with massive offensive potential. But what you can't teach, what you can't work on, is the competitor inside every player. Either you have it or you don't. And Lakers brass saw it in their squad.
"This group of guys is as competitive as you can imagine," Lakers general manager Rob Pelinka said. "The gene of being a competitive individual is something that gets multiplied, almost like compounded interest, when you have competitive guys in the gym."
Competitive guys usually don't let things fall apart. So if you believe Magic, Pelinka, Stephenson, Kuzma, and Rondo, the new look Lakers are going to be just fine. Yes, there will be growing pains—LeBron proved that his first season in Miami—but if you're expecting to see the circus know there was a purpose to pickup games other than just getting in a run.
Thank you very much for visiting our site!
>>>>>>>>>>>>>>>>>>>>>>>>>>>>>>>>>>>>>>>>>>>>>>>>>>>>>>>>>>>
Are you struggling to make your living? Looking for great PASSIVE INCOME?
You can make your living from anywhere! What you need is just a Laptop with internet connection.
No tech skill is needed! Please click here for more information!