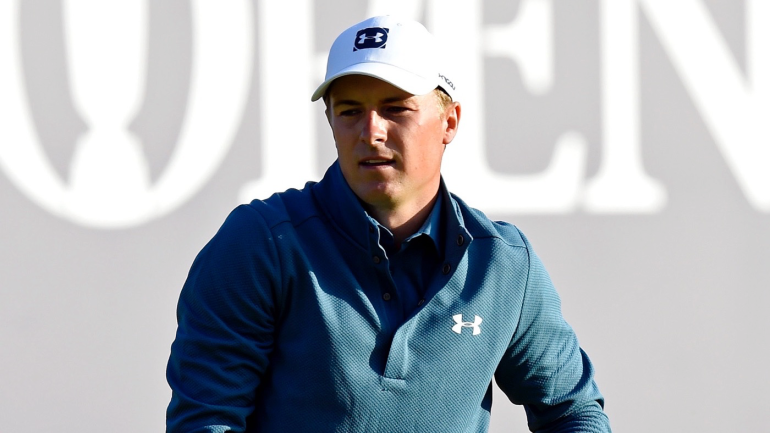 After being firm and fast on Thursday and wetter on Friday, Carnoustie was as favorable to the field as its been all week on a Saturday that saw low scores for many. The result was a crowded leaderboard as we prepare for the final round of the 147th Open Championship.
Tiger Woods thrilled early with a six-birdie, one-bogey round of 66 that moved him up into the top 10, but his own estimation that the leaders could get to double digits under par was close to accurate. He had one of the best rounds of the day, and Woods is still four strokes behind the trio of Jordan Spieth, Kevin Kisner and Xander Schauffele (all in the lead at 9-under) going into Sunday.
But Woods isn't the only one chasing Spieth at Co., because also included in the group at 5-under is Rory McIlroy, Zach Johnson, Tommy Fleetwood, Webb Simpson and Matt Kuchar.
Here's how the leaderboard looks going into the final round.
T1. Jordan Spieth (-9): It just doesn't get better than watching Spieth work his way around the course at The Open. He puts himself in some terrible spots only to get himself out with elite iron play and a dead aim on the green with his putter. Math and probability says there's a handful of golfers who can catch him on Sunday, but I'm on the side of inevitability and guessing that we'll have back-to-back winners at the U.S. Open and The Open for the first time ever.
T1. Kevin Kisner (-9): For the second time in less than a year, Kisner is going to bed on Saturday at last a share of the lead and in prime position to win his first major championship. Kisser's 68 in the third round wasn't his best score of the week, but it was his first bogey-free round and a good sign for his chances to battle the nerves of the moment.
T1. Xander Schauffele (-9): The future is so bright for this 24-year-old. There were definitely some mistakes and tough lies that he had to play out of during the day, but when he heats up, Schauffele looks as good as anyone in the field. He played alongside Rory McIlroy, taking some more conservative approaches off the tee and ended up hitting more greens in regulation on the day. Will this be his breakthrough? If he matches his Friday round of 66, he might be able to win this thing.
4. Kevin Chappell (-7): After a birdie-birdie-birdie start, Chappell cooled off a little bit with bogeys on No. 6 and No. 9 before a really strong showing coming in on the second nine. Chappell played with Spieth, and both players found ways to grind out good scores even after missed shots or putting themselves in tough positions.
5. Francesco Molinari (-6): This was the kind of round where celebration of shooting 65 is followed by the knowledge and feeling that Molinari was a couple feet away from going even lower. Still, it was a bogey-free round after seven scores of bogey or worse on Thursday or Friday. Molinari has been getting birdies all week, but cleaning things up have moved him into striking distance.
T6. Rory McIlroy (-5): David Feherty put it well on the broadcast, noting that McIlroy bullied the golf course off the tee. The roll outs on McIlroy's drives put him in some incredibly favorable positions, but he was frequently left frustrated with the inability to turn that into a low score on the day. He had more bogeys (three) than he's had in any round all week despite these attempts to overpower Carnoustie, and now it will take something special on Sunday to chase down Spieth.
T6. Tiger Woods (-5): Through three rounds, Woods is 3 over with no birdies on Carnoustie's final four holes. So as we all wake up and tune in to follow his pursuit of a 15th major championship, know that the birdies need to pile up early and often. Woods hit nearly every fairway and green and only had one bogey (on 16) during his impressive move up the leaderboard. We've been waiting for Woods to put it all together, and on Saturday, it looked like he did just that. Whether it's going to be enough to win is a separate question.
T6. Tommy Fleetwood (-5): We've seen Fleetwood show flashes of elite play in major championships in single rounds, but Saturday was a battle for the 27-year old Englishman after shooting a 65 on Friday. He was mostly dialed in from tee-to-green but missed a lot of putts and battled through three bogeys and a double-bogey to stay right on the number he started at with an even par 71.
T6. Zach Johnson (-5): All in all, it was a rough round for ZJ with few highlights (an eagle at No. 6, birdies at No. 7 and No. 14) and as many scores of bogey or worse as he's had in any round all week. He's not out of contention by any means, but even matching his best score of the week (67) would require Spieth and Schauffele to give strokes back in order to hoist the Claret Jug for the second time.
T6. Webb Simpson (-5): Simpson is a really good bunker player, and his ability to scramble (both out of the sand and after missing greens in general) has helped him stay in contention this week. We may go back looking at this round and this week as the spot where Simpson locked up his position on the Ryder Cup.
T6. Alex Noren (-5): A somewhat loose round from Noren was held together by a handful of huge putts. Seven birdies were balanced out by three bogeys and his 67 on Saturday and now he will have a shot to match or best his T6 finish at The Open a year ago.
T6. Matt Kuchar (-5): Last year's runner-up got off to a rough start with three bogeys in his first eight holes but rallied well, fighting back with a 32 coming in to finish with a 70 for the round. Nothing came easily for Kuchar on a day where he hit just 39 percent of greens in regulation but some nifty work around the greens on No. 10 and No. 16 kept him in the top 10 heading into Sunday.
Miss any of the action? CBS Sports was with you the entire way Saturday updating this story with the latest scores, highlights and analysis. If you are unable to view the updates below, please click here.
Thanks for stopping by.
Thank you very much for visiting our site!
>>>>>>>>>>>>>>>>>>>>>>>>>>>>>>>>>>>>>>>>>>>>>>>>>>>>>>>>>>>
Are you struggling to make your living? Looking for great PASSIVE INCOME?
You can make your living from anywhere! What you need is just a Laptop with internet connection.
No tech skill is needed! Please click here for more information!